Changing the way that I present Jennifer…
Ever since the local governments rescinded much of the pandemic restrictions, I began going out as Jennifer a whole lot less than I was doing.  Let's admit – it's fun to be Jennifer, but she has her ups and downs.  One thing that I always enjoy is doing trips as Jennifer, where I am committed to her persona for the entire trip.  In those instances, I only pack stuff for Jennifer, and so I would have to buy an entire set of clothes to get out of Jennifer's skin, which provides a barrier to a quick changeout.  After all, Jennifer as you have known her is entirely clothing, so she can be donned and doffed in relatively short order.  However, in the past year, I've changed how I present Jennifer a bit.  With the pandemic measures' subsiding, I've found it harder to get away with Jennifer in the form that I've known her.  A gold bodysuit, while fun, is harder to justify now that masks are coming off.
One thing about masks-optional, though, is that while Jennifer was previously becoming somewhat routine, the option of not having to mask injected a level of fun back into her.  Now, Jennifer was once again a special occasion.  She was something different and exciting.  Though initially, Jennifer kept her usual presentation, i.e. the gold bodysuit, as I continued to dress in the gold bodysuit for Jennifer through the end of 2021.
My favorite adventure during this period was when I did a day trip to the Philadelphia area as Jennifer in early October.  I had a new sleeveless dress and high-heeled shoes, and I was ready to do some photography that I'd been wanting to do for a while (if people ask Jennifer what she does for a living, she tells them that she is a freelance photographer).  It worked out, because Philadelphia still had a local mask mandate at that time, and would continue to have one until something like March 2022.  I did some photography in Camden along the waterfront, and then took the train into Center City Philadelphia and did a photo walk down there.  The photos that I shot during this adventure have long since been published under my real name, but while I was out, I also got some selfies.
I shot these photos along the Camden waterfront using the drone that I had been flying: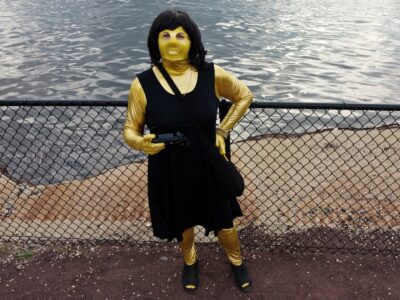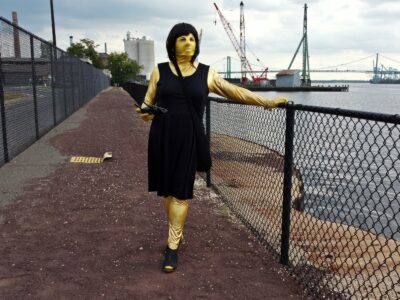 Selfies on the Camden waterfront.  And yes, I've lost some more weight since the last time I shared photos, which I think that you can see around my face and neck.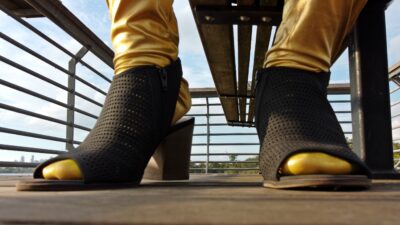 Close-up of the shoes.  I still don't like the way the suit bunches up around the ankles, but I suppose that there are worse things.
I didn't do too badly on this part of my outing.  I got great photos, and I looked fabulous in my outfit.  My only problem was that I wasn't as confident walking in these shoes as I would have preferred (it turned out that I needed to buckle them a notch tighter than I did, and that solved the problem), and the gravel path that you see in the second photo was not kind to me, as I picked up a good bit of gravel in my shoes.  Considering how sensitive the soles of my feet are (the palms of my hands are also very sensitive), that was quite unpleasant.
One thing that amused me here was the reaction to Jennifer by the other people around me.  I've been hit on and cat-called as Jennifer before, but this one was a bit over the top.  The area of the waterfront that I was at was one where the population was largely black.  I was the only white person around.  So that made me stick out already.  Then to be attired as I was made me a bit more conspicuous.  The group in the area was mostly a bunch of older gentlemen, and they just couldn't get enough of Jennifer.  They were hitting on me left and right.  They loved my outfit.  They complimented me on my legs!  They even noted how I was definitely not going to get COVID on account of the bodysuit.  If nothing else, at least we know that Jennifer is "reading" as intended.  They thought Jennifer was hot!  All told, I did my best to roll with it, thanking them for the compliments, while doing my best to get the shots that I wanted (and I feel like I did pretty well).  I had seen the kind of reaction that Jennifer got before, in DC's Petworth neighborhood, where older black men had hit on various attractive white women.  It becomes especially apparent while riding the bus, since it's kind of a captive environment.  So I kind of knew what to expect, i.e. these kinds of guys will hit on anyone presenting as a female with nice legs, but it was still a strange feeling to have it directed at me.  It made me feel simultaneously amused and uncomfortable, even though I assumed that it was all meant in good fun.
Later on, I drove over to Lindenwold and took the train into Philadelphia, where I had a fun photo walk.  There, people generally left me alone, though some folks did stop to admire my gold outfit and chat about it.  One guy who chatted me up was very nice, while his female companion was like, "Come on, let her do her thing."  One change from my earlier time in Camden was that I was wearing different shoes.  I wanted to wear my original shoes on this outing, but I also knew that I would be doing a lot of walking in Philly, and I would practically kill myself if I wore them in Philly.  So I changed into a pair of heeled sneakers (these) that I had walked around in plenty of times before.
I wasn't flying my drone in Center City, because it was nighttime and there were too many people around, but I got some phone selfies during my walk: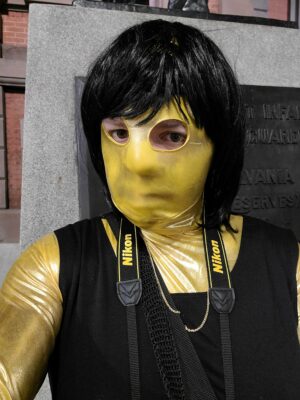 Selfie in Center City.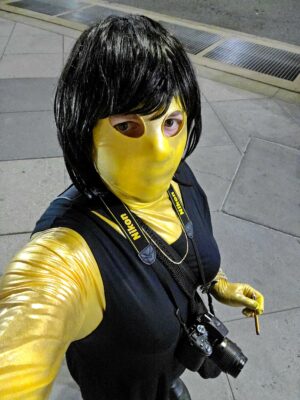 Another selfie in Center City, in full photography mode.  I'm carrying my handbag, my camera bag, and my DSLR.  I'm holding a stylus in my left hand, which is how I manipulate my phone when I'm in the bodysuit, since the gloves are not compatible with the touchscreen.
Then on the way back, I got a selfie on the train: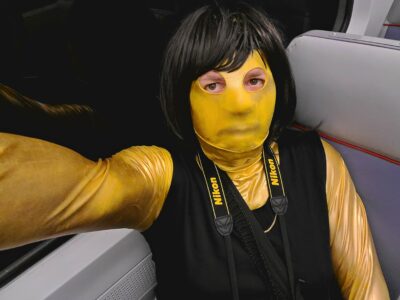 Selfie on the PATCO train on the way back to Lindenwold.
All in all, I had a fun time.  I got a lot of good photo material, and I got to spend a day doing my thing where I was committed to being Jennifer all day, because I brought no other outfit to change into.
The next time I did Jennifer was in December for a play event at a friend's house.  There, I arrived fully attired, and ended up changing into a nightie for the play.  That nightie was one that I bought when I was a bit larger than I am now, and so it didn't quite fit, but we still had a lot of fun.  I ended up getting hogtied with my hogtie set, ballgagged, and played with all over.  I had an amazing time, and we all laughed when our scene got so intense that I lost my wig in the middle of the scene.  Rather than fix it, we just let it stay there, and then I put it back on later.  However, I admit that the bodysuit was not the most practical thing to be gagged in, mainly because you have to push the fabric into my mouth and then put the ballgag on.  Otherwise it just sits on top, which defeats the purpose.  And if you're going to gag me, I want to be gagged like I mean it.
Beginning in January 2022, I began to evolve the way that Jennifer presents herself.  A few factors worked into this.  First, the bodysuit that I had been using, made by a company called Wolf Unitard, had been discontinued.  Jennifer is pretty rough on the suits, and so I had to replace them fairly regularly.  In a year and a half, I went through three suits as they would gradually wear out.  With my inability to get an exact match for this, and bodysuits like Jennifer uses, i.e. full coverage with only eyes open, being somewhat difficult to obtain (no eyes or fully open face are more common), I felt like it was time to move away from the bodysuit.  That, in turn, led to my considering a lot of different things, as I was no longer just covering everything like I was doing, as I had to decide what features on me I wanted to keep covered, and what I was willing to show.  In other words, how did I want to do it convincingly without a full-coverage suit.  A big consideration was body hair.  I am not the hairiest person around, but nonetheless, I do have body hair.  I have chest hair.  I have leg hair.  I have back hair.  I have arm hair.  You get the point.  I have more hair in places that most women don't have.  And my partner loves feeling my body hair, so it's not like I could just shave it and do right by her.  I still have to live there, after all.
What I eventually settled on was to dress Jennifer a tad more conservatively than I had been doing.  Jennifer now was fully covered from shoulder to toe.  I also used COVID-19 measures to my advantage, positioning Jennifer as someone who was extremely cautious about COVID as a way of keeping my identity a secret while in drag.  To accomplish this, I used a full-face respirator that I had purchased relatively recently for prurient purposes (i.e. I'm into that), and I wore a pair of black nitrile gloves like tattoo artists use.  With Omicron's being a thing at this time (and I had come down with it and recovered in late 2021), I felt like I could get away with it.  And much to my surprise, I did.  One advantage to the full-face respirator was the way that it pushed on my face.  It tended to push the skin around my cheekbones up a bit, which I thought made my eyes look a little more feminine.
I first took this initial version of "skin Jennifer", as a friend referred to it, on an overnight trip to Pennsylvania that I did in early January while my partner was at an anime convention.  My initial idea was to just give myself a really close shave and wear the respirator and gloves along with an outfit, but then while driving up, I realized that it needed something else: I decided on the spur of the moment that Jennifer was going to start wearing makeup, because the look needed something.  I focused mostly on eyes, since that's what would be visible.  I got some mascara and some eyeliner, and applied it in the car.  It came out okay for someone who had never applied makeup before.  I also got some lipstick, which looked pretty good.  I did that mainly to help me get into character, recognizing that no one other than me would ever see it.  On this overnight trip, I had two outfits, both from inventory.  One was a long-sleeve gray skater dress with a high neck that I wore with dark pink winter leggings, and the other was an army green hoodie dress that I wore with gray winter leggings.  Match that with a pair of black stockings and a pair of black high heeled boots, and I had my look.
And here's how it came out: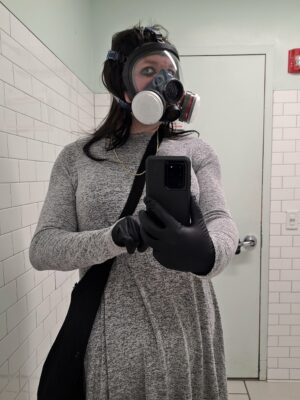 Mirror selfie in a Target restroom, showing Jennifer in a gray skater dress with full-face respirator, gloves, and a really bad makeup job.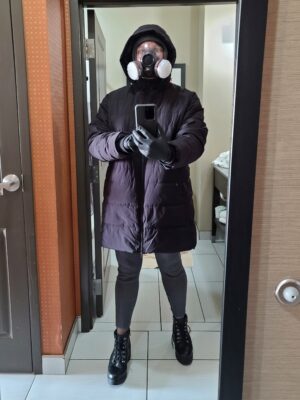 Mirror selfie in a hotel room.  The temperature outside was bitterly cold, which led me to really bundle up. I jokingly referred to this look as "COVID snowbunny".
All in all, the trip was a lot of fun.  I went to Harrisburg, and then took the Pennsylvania Turnpike across to Philadelphia, where there was still a mask mandate.  That was fun, as I got to go shopping and exploring around places that I had not been in quite a while.  And no one batted an eye about seeing a person going about while wearing gloves and a full-face respirator (and what a strange world we live in).
I did this version of Jennifer one more time, in February.  In this case, I went out locally, where there was still a local mask mandate at that time.  I did my eye makeup again and the lipstick, I put on the gray skater dress with some black hosiery, and I ran some errands.  I went grocery shopping, I hit up a thrift store, and I went to Uptown Cheapskate.  I got a red full-length long sleeve dress from the thrift store, which was an amazing find.  I also tried on a few outfits at Uptown Cheapskate.  Jennifer tends to do pretty well at Uptown Cheapskate, though this particular visit turned out to be a bust.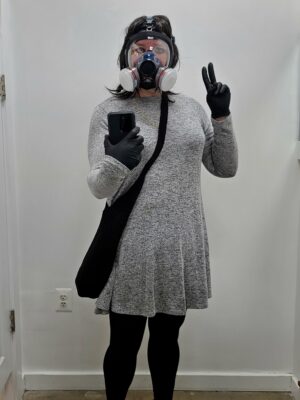 Jennifer in the fitting room at Uptown Cheapskate, wearing the outfit that she came in with.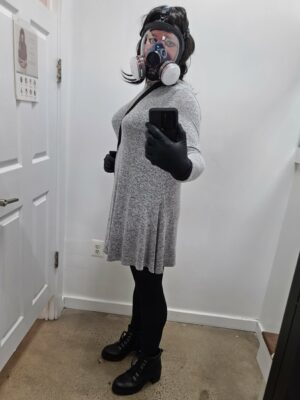 I love this angle because it shows off how much weight I've lost.  For some reason, you can't see how much weight I've lost this well when I'm dressed in regular clothes.  Dressed as Jennifer, though, I can't get enough of how awesome I look because of the weight loss.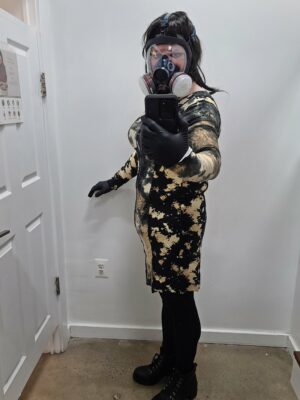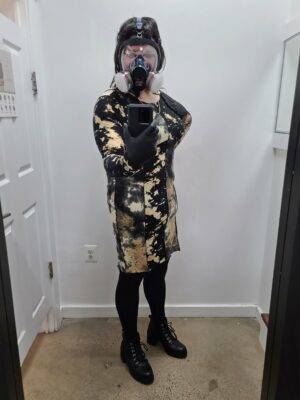 Trying on a relatively form-fitting dress at Uptown Cheapskate.  I usually don't wear something this tight, either as Jennifer or in real life, and while I liked it, I am not ready to go this tight around the middle just yet, because I still look kind of lumpy.  I suspect that this sort of outfit will have to wait until such time that I get those last 25 pounds off, and then have skin removal surgery.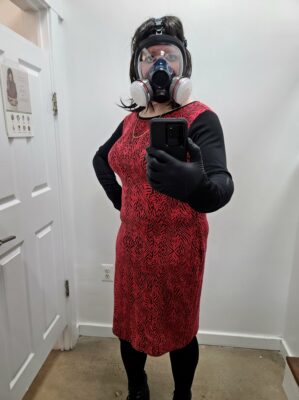 Trying on another outfit.  This one wasn't quite as form-fitting as the other one, though it still showed off contours around my middle that I didn't want to show.  Another strike against this dress, though, was that it was just plain ugly.
After this, I ended up putting Jennifer away for about four months.  No particular reason – just that other matters in my life took precedence over Jennifer or other kink-type stuff.  I did Jennifer again in June, and this time, I was going to do full makeup.  The idea was that by the spring, COVID-mania had generally subsided and nobody had a mask mandate anymore, and so I didn't feel like I could get away with doing Jennifer in full PPE anymore (but trust me, rubber gloves and a full-face respirator still have a place – just not with Jennifer).
In going with full makeup, I came to a realization: I had no idea what in the fuck I was doing.  I researched it like I usually do, but in looking at the cosmetics department at a store or something, I was thinking, I know that they're speaking English, but I don't understand a word of it.  Plus I was a little too shy to ask for assistance (but at the same time, it's not like CVS or Walmart staffs that sort of expertise).  One thing that I did understand right off the bat, though, was nail polish.  All I had to learn there was about how gel nail polish worked, and how it required a drying lamp in order to cure properly.  With the rest of it, well, I just did my best.
I think that I did all right with my color selections, except for foundation.  I wanted to go full coverage, in order to ensure that no one could tell that I had facial hair like a guy.  As such, I bought stick foundation, which just seemed easier overall.  I guesstimated on the color for the foundation, and I ended up going a few notches too light.  The way that I picked my foundation, I looked at my arm and then looked at the options, and picked maybe the second or third from the lightest.  And once I put it on, I realized that I had gone too light, which gave me something of a ghostly appearance, and made me look older, which is something that I didn't want.  Truth be told, I like to knock off a few years for Jennifer rather than add a few years.
In any event, I clearly need help with the makeup thing, not only in picking out the right colors for my complexion, but also how to properly apply them.  I'm sure that there are crossdresser-friendly makeup places in the DC area that can help me out, but I have not yet done the research to find them.
Otherwise, though, I feel like I didn't do too badly.  Here's the end result, in a couple of mirror selfies: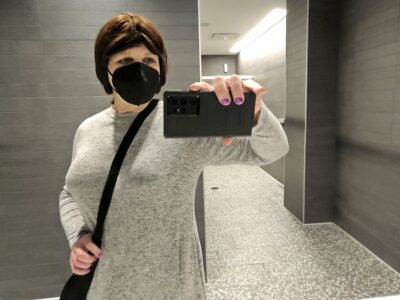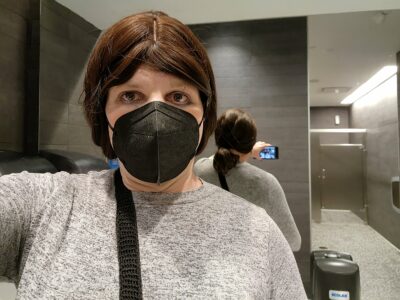 All in all, I feel like I didn't do too badly, though I imagine that I will look back on this later and comment on how terrible this was compared to the skills that I may eventually build.  But the nails came out pretty well with that purple color.  I also had a new wig that I pulled back, which worked pretty well.  And the KN95 that I was wearing made the foundation look a little less ghastly.  I'm still not quite willing to go full-face with Jennifer, at least not locally, but this at least blended in well enough.
One thing that I noticed on this adventure, though, was that when I looked in the mirror, it looked like my sister was staring back at me.  I knew that my sister and I always looked a lot alike, but I didn't realize that we looked that much alike.  In any event, I suppose that I'm on the right track if I see a strong family resemblance.
I did Jennifer a second night in June, going up to Frederick and walking around downtown.  For as many times as I have been to Frederick for as many different reasons, I've never really done much with the downtown area, so figured that I might as well check it out.  I didn't get any photos from this particular day, though, but I did take one step forward: no mask, at least not outdoors.  Since it was dark out, I felt comfortable enough going without any kind of mask on.  And it worked out well enough.  Jennifer clearly read properly, because I got hit on by a few folks.  Going indoors, I pulled a KN95 out of my purse and donned it, because with better lighting indoors, I wasn't there just yet.  But it was definitely a start in the right direction.
All in all, I think that the new version of Jennifer is going to be a lot of fun.  And just like Jennifer in the bodysuit, the first few iterations of this came off kind of rough, but with practice, it will improve.