When you see something innocent as kinky…
As is typical for the holiday season, my workplace decorates its facility.  They put up a Christmas tree, they hung some garlands around the place, and they put this next to the entrance: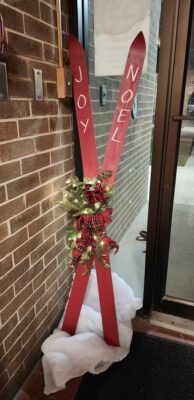 I first saw this as I was coming in from outside, and thought to myself, why would they put a miniature BDSM cross in here?  Then once I got in and looked at it from the other side, I was like, oh, that makes a lot more sense.  Turns out that this is a supposed to be a crossed pair of skis, i.e. some traditional holiday decor, even if it is a little cheesy.  In other words, it is something completely innocent, while I'm over here questioning why a St. Andrew's cross is at my workplace, and wondering if Santa's elves would use that for a good flogging to let off steam after a long day's work making toys or something.  Then I was sort of embarrassed for myself, thinking that a company as stodgy as mine is would ever put something like that in there with that intent.
In the end, though, I can laugh about it, because it's more of a reflection on me and how kinky I am, and how I can make just about anything into something BDSM-related without much effort.  And I don't see anything wrong with that.