Pervertables…
April 18th, 2012
Posted in Things
One of the things that I have discovered in exploring my own kinks and playing with others is that just about everything, in the right hand and with the right evil little mind, can be kinky.  A trip to CVS, the local dollar store, or even a thrift store could be a kinky experience, as even the most vanilla-sounding items are used in such ways well beyond what the manufacturer ever intended.  I've heard the term "pervertables" used for such items that are not manufactured as sex toys, but are used that way.  Thus we're "perverting" these items.
Now as someone who is primarily a submissive/bottom/victim/whatever, when I go shopping for pervertables, I am looking for things that I think would be fun for someone to use on me.  I want to feel it when I'm tied up, gagged, blindfolded, etc.  That's the mindset that I have when I'm looking at stuff with a kinky eye.  As a beginner, I've picked up a few pervertables for use at the local dungeon, but I admit that my toy bag currently has more rope in it than anything else.  I'd estimate that I have around 250 feet of rope, and it's not nearly enough.  After all, the number one rule of rope is that you need more rope.
Aside from massive amounts of rope, here's what I've got as far as pervertables go: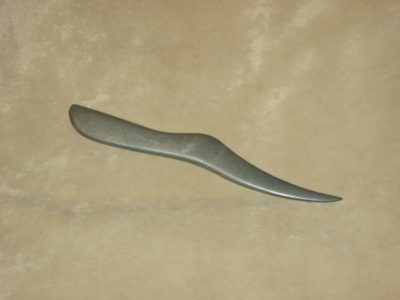 Shrimp deveiner.  I went to an educational session on knife play in February, and this was highly recommended as a good first step in experimenting with that sort of play, because the only thing that's even remotely sharp is the point, and it's amazingly inexpensive.  I got this on Amazon for $2.99 (however, at the time of this writing, it is not available on Amazon for that low of a price).  I had this shipped to the office, since it's easier for me to have stuff shipped there than to my house (since no one is at my house during the day to accept packages).  If anyone had asked, I would have told them that I was going to be preparing shrimp, and that would have been the end of it.  That's the best part about pervertables.  They aren't sex toys by nature, and thus can be easily explained away.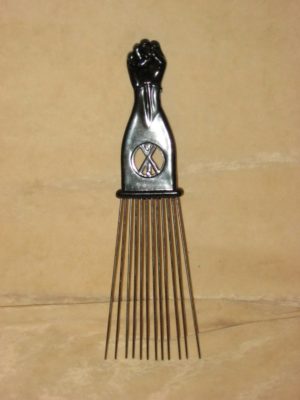 This is a long comb that I got at a dollar store.  The teeth are very long and rigid.  No flex on these.  Think about how this might feel after a flogging or a spanking has made the skin extra sensitive.  And again, it's just a comb.  As a man with short hair, I might not be able to get away with this that easily, but some of the women in the crowd could easily be seen with this and no one would give a second thought.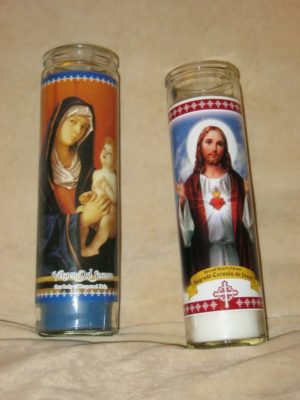 Jesus candles.  My heart fills with perverted, evil glee whenever I think about how these candles were bought with the intention of using them for wax play.  But when I researched wax play and dug through a few wax groups on FetLife, these Jesus candles got high marks for being safer, low-temperature candles.  And they only cost me $1.50 each at the grocery store.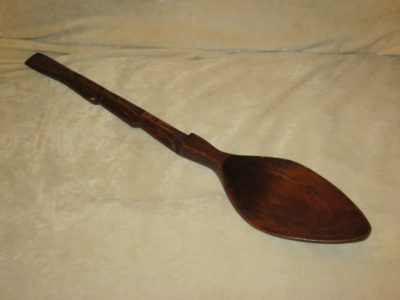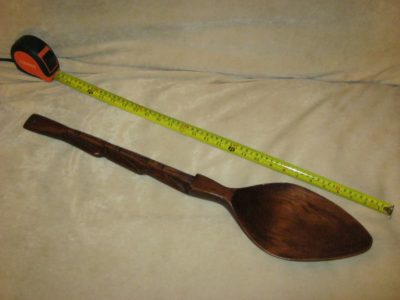 This is a large (27″ long) wooden spoon.  The intended use of this is to hang it on the wall as decoration, perhaps with other, similar items.  This was the single greatest find when shopping for pervertables with my friend Hope.  We spotted this at a thrift store in Silver Spring, Maryland, and she held it to my behind as if she were going to swat me with it.  I agreed that it served a very good purpose, and for six bucks the price was right.  Sold.  This thing fits the contour of my behind perfectly.  Seriously, this not only strikes the top, but it goes all over the entire side of my butt.  I am, however, just a tad wary about using it in a spanking scene just yet.  It has a few minor splinters in it, and I want to smooth those out with some sandpaper, as well as refinish it to make it all shiny before I let someone use it on me.  After all, I want it to be used to turn my behind a reddish color, but not also leave any nasty splinters there.
And the best part about all of these pervertables?  It was all had for less than fifteen bucks.  If it gives you an idea about where on the price scale this falls, I got a low-end ballgag at Night Dreams in Rockville that cost more than all of this put together.  So this is fun on the cheap for sure.  I can deal with that…