I want a home dungeon…
March 20th, 2017
Posted in Things
Lately, I've been looking for a house, in order to get more room to move around, and finally own a place rather than renting.  Build some equity and make a living space that is all my own.  And one of the things that I have grown to dislike about my current place – a one-bedroom apartment – is that I have no place for play.  Basically, there's the living room, which is right next to the vestibule, i.e. where the neighbors can hear you moan, and there's the bedroom, which I don't like having to straighten back up right before bed.  And no place to keep proper dungeon furniture.
Having lived in the same one-bedroom apartment for nearly a decade at this point, I am ready to move on and up.  I'm looking for a bigger house, preferably with an upstairs, a downstairs, and a basement.  Thus I would have my sleeping space, a place for vanilla entertaining, and a dungeon that I can fit out with proper dungeon furniture.  That way, I can have my kinky friends over the house for private play parties, plus have a place to go with the girlfriend for kinky time.
I've been to private parties at several different people's houses, plus a few commercial dungeons, and so I've gotten lots of ideas about what I might want to include in my own dungeon.  I feel like a flogging cross is nearly a requirement for a dungeon, because, if nothing else, it forms a nice centerpiece, and sets the atmosphere of the room, i.e. kinky shit happens here.  And it's not like I would never use a flogging cross, because I definitely would, both on the receiving end of things as well as the giving end of things.  I would also love a table of some sort.  Several dungeons that I've been to have had a padded table, suitable for many different things, like massages, wax play, sensation play, and such.
I could imagine other things in a potential Bondage Diaries dungeon, but a lot would depend on how much space I have, as well as how much money I want to put into it.  I would absolutely love to have a Catherine wheel like DC Speakeasy used to have, but I fear that the price might become prohibitive on that front.  I also would love to have some sort of ceiling-mounted sling, but again, space and such would dictate the feasibility of that.
Otherwise, I would also need to determine the decor for a potential dungeon space.  The best decor that I ever saw in a dungeon took a little and made it go a long way.  The walls were treated to look like dark castle walls, it had dark gray carpeting, and had dimmable recessed lighting.  So the dungeon was well-lit, but it was also able to come down as needed.  Then the best flooring treatment for a dungeon was something that I saw at a friend's house.  They had their dungeon in an unfinished basement, and set down half-inch interlocking foam squares to take the edge off of the concrete floor.  Plus since those foam squares aren't installed permanently, they could be removed for cleaning and then put back.
All that said, in searching for a house, it's my secret reason for why having a basement is so important to me.  After all, I could have a dungeon in an upstairs bedroom, but it wouldn't be the same.  You really need to go down to reach a dungeon space in order to achieve the full effect.  The best basement for a dungeon was in a townhome that I looked at on my first round of house hunting: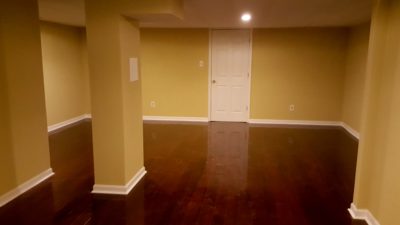 I loved the dark wood flooring, the recessed lighting, and the lack of windows.  That house would have been a shoo-in if the entire place was done as well as that basement.  But unfortunately, the rest of the house was either outdated or downright ugly – and this was after a recent renovation.  Why someone would renovate a house to look that ugly, I don't know.
Hopefully, I'll have step one in a home dungeon project, i.e. getting the house, done soon.  So stay tuned…