Duct tape…
While my friend Hope and I were shopping for pervertables, we also went shopping for stuff that would be used more immediately. Specifically, we went to Target and got four rolls of duct tape – two red, and two black. At a few bucks per roll, I could handle that.
After we finished shopping, we made a quick stop at each of our respective houses for our bags of stuff, and then we headed over to DCDungeon.
For those not familiar, DCDungeon is based in what is otherwise a photography studio on Lewis Avenue in Rockville, Maryland within walking distance of Twinbrook station on the Red Line. This was my first time going. Right off the bat, something felt good about this place, unlike at The Crucible. Like The Crucible, DCDungeon sells memberships. However, unlike The Crucible, DCDungeon doesn't require memberships to get in the door. At DCDungeon, the member admission price is $10. Non-members pay $20 to get in. However, to join also costs $20, and that same $20 also gets you in the door to play. Thus it seemed like a no-brainer: join. So I did.
The scene that Hope and I did was awesome. Knowing that I would be wrapped up in duct tape, I changed into a thong ahead of this. It made sense: not going to ruin any clothes with duct tape goop, and at the same time, I wouldn't get tape on any hair around sensitive areas. Still, it was an odd feeling to change into that and then be seen by others.
Once I was changed, Hope went to work. First thing: one piece of black tape over my mouth. I can be a bit talkative, you see. Then she secured my arms behind me with more tape. Then she proceeded to make a duct tape dress for me. Seriously, that's what she did. She had me wrapped up more or less from my shoulders to about halfway down my thighs. Impressive. And to top it all off, red lips on the original black tape gag.
Then she put me inside this steel cage that was in the room. As we had no way to secure the cage door, my instructions were not to open the door or else she would cut off the tape and the play session would end. I complied, because I was having a good time – I certainly didn't want it to end, that's for sure! While in the cage, others were invited to poke through the bars, and then we watched two others getting spanked and flogged. Both were attached at the wrists to a piece of furniture in the room. One was attached to a St. Andrew's cross, and the other was attached to a table. Now to see who called their safeword first (turns out neither one of them did – both of them could handle quite a bit!).
Then Hope brought me out of the cage, and into the area in front of the cage. It was time for me to experience some impact play as well. DCDungeon keeps a lot of instruments on the wall, like paddles, floggers, and the like. Hope went between a number of them, and really went to town with them. I was testing my limits, and was amazed about how much I was able to take. Paddles. Floggers. A "dragon trail" whip (similar to this). On the chest. On the shoulders. On the behind. What skin wasn't covered by duct tape was becoming a bright pink color.
And then it was over. But not before first taking pictures of the results: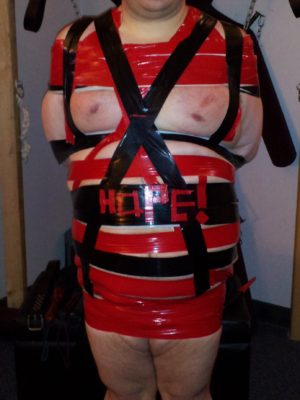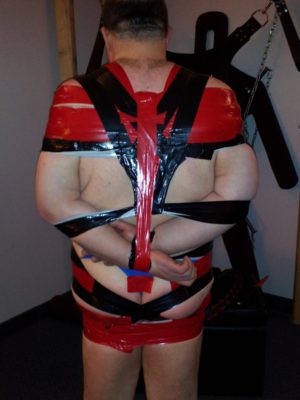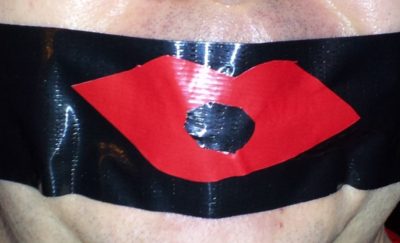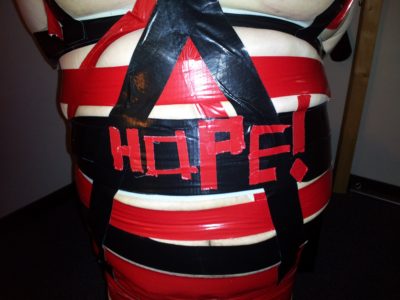 And then it was time to take the tape off. After cutting it with a pair of safety shears, the removal was fairly straightforward. I was a little concerned about how painful that would be, since it was tape directly on skin with some hair involved, but surprisingly, it didn't hurt coming off – it tickled. I was actually laughing as it came off!  And here it is: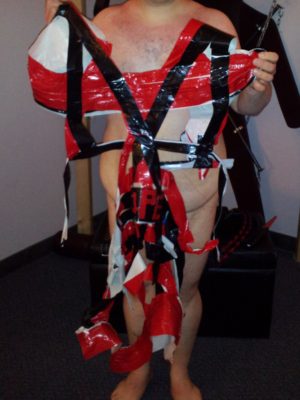 Needless to say, that was fun. And by the end of the night, I realized that I had found my play space. DCDungeon may not have had the decor of The Crucible, but this was more my style. The crowd was smaller, the atmosphere felt more intimate, and the noise level was much lower. While The Crucible felt like a big-city club, DCDungeon felt more like the neighborhood play space, where everyone knew each other and felt comfortable around each other. It was awesome.