Somehow, when I teach people how to tie rope, I always end up hogtied in the end…
January 28th, 2015
Posted in Play
It's funny how things work out sometimes.  I taught my friend BroadSpectrum how to do a two-column tie, and she caught on really quickly.  The way I usually do it is to demonstrate the tie on the hands of the person learning, by tying their hands in front.  Then I get them to tie my hands in front (so that I can observe), and then we have a little fun with it.  And in this case, I got my arms tied from behind, I got my feet tied, and then, in explaining that the two-column tie can be used on any two things, got put in a hogtie.
This is also when I learned something about BroadSpectrum: she has a seriously evil streak.  That led to a scene where I was blindfolded, ballgagged, and then spanked and tickled.  I'm not saying that I didn't enjoy it, but I was definitely surprised at how quickly she got into her zone as a top.  She considers herself something of a switch, but I think she's got more top in her than bottom.  She also played with sound to an extent, making snapping noises with some leather belts near my head before administering a few whacks to my clothed backside.  Plus all sorts of tickling.  Needless to say, we had fun.
However, when my shoulders started to get sore, I realized, while bound, blindfolded, and gagged, that we had forgotten a very important element of any BDSM scene: the safeword.  Ooooooooops.  I don't get too deeply into any fantasy elements when it comes to my scenes, so when I'm not gagged, a simple "we need to stop" will suffice for a safeword.  However, if I'm gagged, a safeword of some sort is necessary.  I managed to get BroadSpectrum's attention enough to know to take the gag out, and then I communicated that I needed to be let out.  Next time, note to self: don't forget to negotiate a safeword.
One amusing moment came in the beginning, when I had my hands tied in front, when BroadSpectrum asked me whether or not I could get out of her tie.  She had inadvertently placed the final knot where I could easily reach it, so I responded, "Probably."  Lesson learned: put the knot where your captive can't easily reach it and manipulate it with their fingers.  I've found out the hard way as well, since there's nothing more infuriating than to have your captive escape early, when your intention was for them to stay tied up for a while.  Plus there's a certain element of closure for the top in letting your captive out after a great scene, and an early escape denies the top that closure (unless the escape is intended as part of the scene).
Then after that, we did a wax scene.  That was fun.  It was a similar affair to when I did a wax scene with TerrificTeez last April, but while TerrificTeez was a little nervous about the whole thing at first, BroadSpectrum was definitely more excited about getting into it.  We used the same candles, and she was the bottom first.  This was my second time as the top in a wax scene, and as such, I think I did a better job this time around, as the candles required much less relighting than they did the first time.  The red candle looked like blood coming out of the jar and onto her back, which was interesting, yet at the same time a bit disconcerting.  Then one of the candles had an image of Jesus on it.  Since the mood in that scene was light, I made sure to draw attention to that, saying, "Here comes Jesus!"  It was even funnier when you consider that the Jesus candle had white wax.
And yes, I am going straight to hell for that.
Otherwise, the only candle that BroadSpectrum couldn't handle was the stick candle.  It was a plain, white tapered candle from Walmart, and it burns a bit hotter than the jar candles.  She reacted somewhat strongly to the first drop, and so after asking, "Too much?" we discontinued the use of that candle.  No worries.  Not everyone can handle the hotter temperatures, and that's fine, since we all have our own limits.
And this was the result: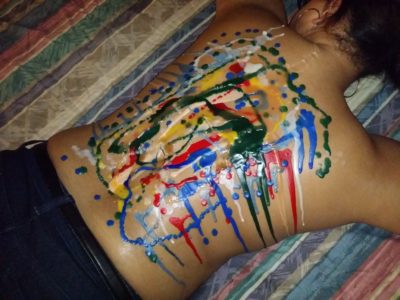 The end result of the wax scene.  I thought that the wax from the peach-scented candle kind of looks like a warm glaze over everything else on her upper back.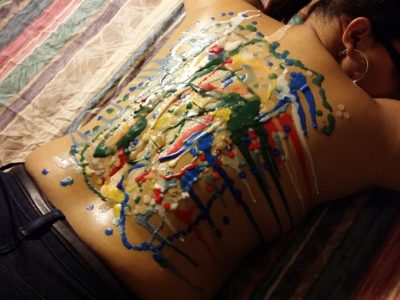 Same angle, different lighting.  I really loved the way this lighting brought out contours.  It's quite easy, when looking at the results of a wax scene in photos, to think that it's flat, when in reality, it's anything but flat.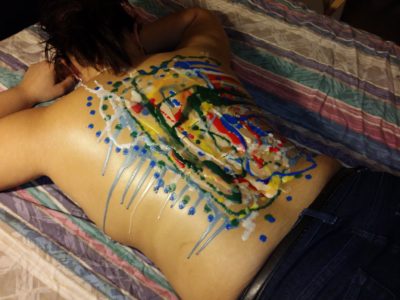 View from the other side.  Notice the way some of the light blue wax (the warmest wax of the jar candles) rolled off her back and down her side.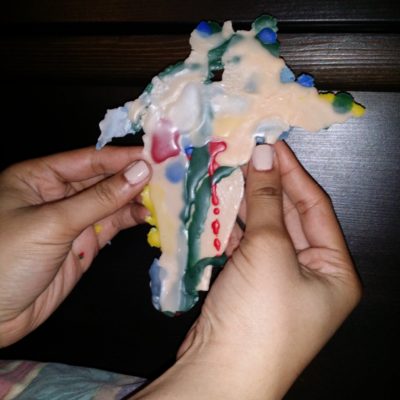 BroadSpectrum holds a piece of wax after the scene had ended.
In removing the wax, I used a dull butter knife as I always do, and due to the pretreatment, the wax separated easily from the skin.  BroadSpectrum remarked that it felt like I was peeling off a layer of skin.  I can agree with that assessment, as the wax essentially forms another layer, and its separation definitely tickles.
After that, we changed places, and I got the wax treatment.  It was, as always, awesome, though the photos we took afterward didn't come out very well.  I especially enjoyed the stick candle, and we burned it down far enough to the point of throwing it away.  We also burned the peach-scented candle completely out as well.  But they both had good runs, so no worries there, and they're very inexpensive to replace.
In any case, I now have some exploring to do for next time, since I am definitely interested in discovering my own limits when it comes to hot wax, and seeing exactly how hot of wax I can handle.  If you can suggest candles that burn hotter than your typical white stick candle (I have been using the plain tapered candles from Walmart), then I'd love to know – leave a comment below.
I'm also looking forward to playing with BroadSpectrum again.  I have seen her evil streak, and would definitely love to see how that plays out in more elaborate scenes – just not one where I'm tied so that my legs are pulling on my arms and shoulders.