Spoon update!
April 29th, 2012
Posted in Things
You may remember in my pervertables post that I bought a large wooden spoon, suitable for a spanking scene or two, at a thrift store: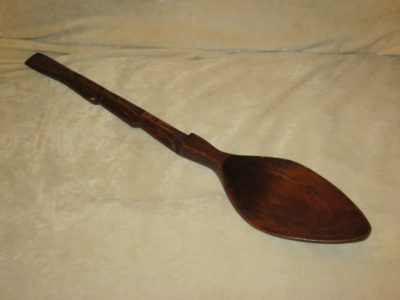 Now, it's quite a bit closer on its journey towards being an implement of BDSM play than it was when this photo was taken.  I went out to Home Depot this afternoon, and picked up a fine grain sanding sponge for about four bucks, and went to town on it.  This is the result of about 30-40 minutes' worth of sanding: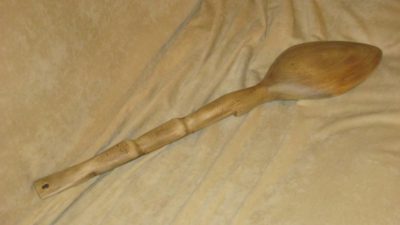 Look how much lighter it is now!  The finish is now pretty much obliterated. And the splinters in the bowl of it that caused some concern before are now completely gone.  I paid particular attention to those areas to make sure that they were smooth.  After all, I want this spoon to cause good, fun pain, and not unpleasant pain from wood splinters entering skin or from using a tweezer to remove said splinters.
Now I'm trying to figure out what exactly I want to do with it from here.  I want to stain or paint the spoon, and then go over it with a few coats of polyurethane.  But the choice of stain or paint is still very much up in the air.  First of all, I wasn't all that fond of the old color.  The way I see it, that was probably a great color for its original use as a wallhanging, most likely paired with a fork.  As a BDSM toy, that color just won't do.  I have a can of black stain in my house that's left over from another project that I did, and that might work, or I still might want to paint it a color.  Part of me wants to do something unique and artsy with it, but part of me wants to make it look serious.  There's also the question about whether I want to do anything to accentuate and bring out the design on the handle.  This kind of spoon is called a "tiki" spoon, from the design carved into the handle.  Should I do anything to make it stand out, or should I let it stay subtle?  I'm leaning towards not accentuating it as in the old design, but if a strong argument can be made to accentuate it, I'm willing to be convinced.
So let me know what you think in the comments below.  Should I just put the black stain on it that I already have?  Should I put a wood-colored stain on it?  Should I put a colored stain on it?  Should I paint it?  Something else?